Every time a former Kiwi horse enters the harness racing stables of Victorian professional trainer Joe Pace, he makes no secret that he can't wait to get them up and going.
"I just love the New Zealand horses, but a fantastic relationship with (New Zealand great) Tony Herlihy is a big bonus. Tony gives me a call whenever he's spotted an ideal prospect," Pace, of Harkness, near Melton, said.
"Tony is such a genuine guy, and I would say that probably 90 per cent of my stable are Kiwis. Just last month we bought six from over there," he said.
"I've got a few great owners and the main client is the one who has been with me the longest in Charlie Sant. Whenever I'm recommended a New Zealander, Charlie says it's my call and if I like what I see, go for it.
"All of his horses race in his colors which is nice. His wife Georgina has also become an owner now and races a trotter with Charlie."
And the square-gaiter in question, Natty Pagger (Majestic Son-Not Likely (Continentalman) was the second leg of a training double for Pace at Cranbourne on Sunday night.
It was handled by his brother Darren.The first winner for the stable was five-year-old gelding Supreme Dominator (Bettors Delight-Galleons Supreme (Christian Cullen), who was driven a treat by Joe's son Adrian for his second race win.
The horse, which has an impressive CV, is raced by Charlie Sant and Sam Castro.
"Both horses went well, and I must say they were very well driven by Darren and Adrian. I've been holding Adrian back from driving despite him being very keen to get out there for the past few years," Joe said.
"I just wanted him to get experience and learn to think his way through it. There's a craftsmanship now with race driving, but he showed me a while ago that he was ready.
"He was tickled pink the other night, and rightfully so. He told me later to 'move over old man'! But seriously I will take a back seat down the track."
Twenty-year-old Adrian, who is in his third year of a carpentry apprenticeship, has recorded his two wins from just eight drives, and is without doubt a youngster to watch in the future.
After getting off the pegs early, he landed one-out and two-back with Supreme Dominator. When other runners made their moves down the back, he didn't panic and was able to spear through to be in a winning position on the home corner.
Running on strongly up the home straight, Supreme Dominator posted an eye-catching win.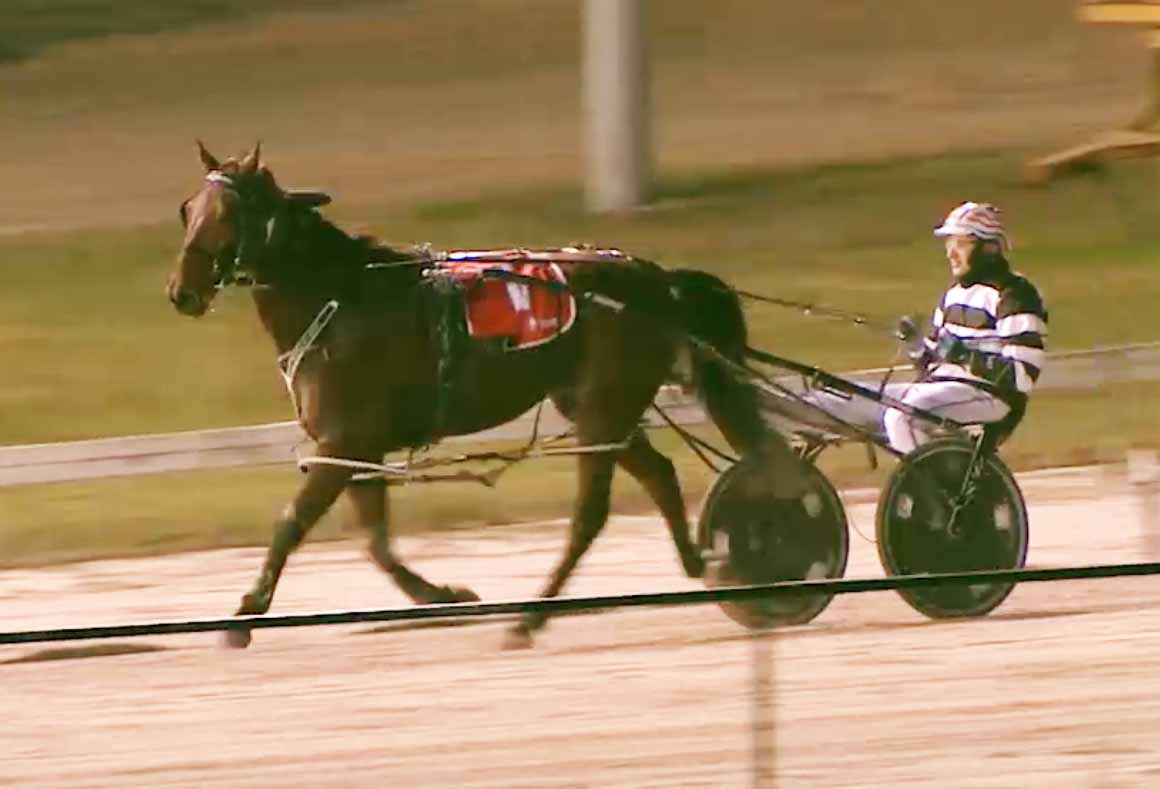 "We originally purchased him with the aim of tackling the classic races, like the Breeders and all of those. Despite winning first-up, he didn't really fire," Pace said.
"So after two more starts it was off to the paddock for a spell. He did really well and when we got him back in, he won at Kilmore and then ran a pleasing fifth behind Lochinvar Art in the Bonanza," he said.
"His next run was in Sydney in a heat of the Chariots. He absolutely ran out of his skin to be fifth behind Self Assured. We then decided he was worth a shot at the Carousel event and left him up there, but he just went backwards.
"There was really no alternative, so he went out for a bit over two months."
Pace said he decided to work on the horse's confidence when he returned for his latest campaign.
"This involved nice steady work at home and just sitting him up. We were also swimming him to rebuild his weight—all of this took a long time, but I've seen a vast improvement in the horse this prep," he said.
"At his first start back at Cranbourne he was held up behind the leader. He couldn't get up the sprint lane quick enough before going down narrowly so that was pleasing."
Pace said five years ago he decided to try his hand full-time in harness racing.
"I'd always had a job up until then and did the horses part-time. That decision five years ago was the best move I've ever made," he said.
"My dad Vic has been in the sport for over 50 years, and gives me a hand and plenty of support. Sometimes he gets the blame when I have a bad night!"
Pace said the very first horse they purchased from New Zealand was Rock N Roll Chapel, who has been outstanding.
"She's won 14 races including a Menangle victory in 1.50, and has been placed in group races," he said.
With the Cranbourne meeting coming during the latest Victorian COVID-19 lockdown, Pace's wife Susan could only watch the family double unfold at home on the television.
"She was so excited, especially for Adrian. I think she may have had a few tears," he said.
"We were very happy for my brother Darren too, because his drive on Natty Pagger was super as well. Darren works as a sparky, but enjoys race driving.
"When they went a bit mad up front, this suited him down to the ground.
"The pair sat three back the pegs before working into the clear on the home corner and stormed home with a wet sail.
"He's a fool proof trotter who can sustain a sprint. He's like a little machine and that was his second win from four starts. I think he will improve even more with racing at Melton against stronger company," Pace said.
The stable has enjoyed a consistent current season with 14 wins and nine placings for over $73,000 in stakes and with "fire power" in the stable including Rock N Roll Chapel (14w 27p $163K), Forty Thieves (13w 23p $147K), Where's Seggy (7w 3p $32K), Cranbourne winners Supreme Dominator and Natty Pagger, there's sure to be more wins around the corner.
By Terry Gange from NewsAlert PR Mildura