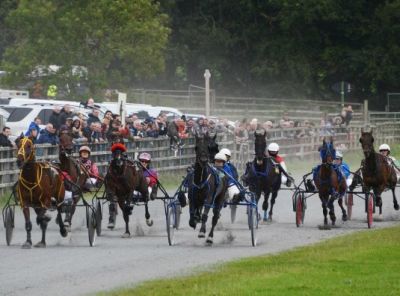 Belfast, IE – The Northern Ireland Standardbred Association (NISA), the officially recognised governing body for the sport of harness racing in Northern Ireland hosted their 6th meeting of the 2020 season at Racetime Raceway in Lisburn this Saturday where the feature event on the programme will be the John, Paddy & Maureen Bassett Memorial Cup.
Generously sponsored by the Bassett family from Belfast, 3 heats will be held on the afternoon with the first 2 home in each qualifying for a grand final.
In the opening heat, all eyes will be on Peter Lyttles Rio Bravo which finished third, then second on its previous two starts at the venue and with more improvement expected the mare should secure the red rosette this time of asking.
Oakwood Maverick looks the biggest danger to the selection. Barry Reaveys colt won on his debut then finished third last time but made a break at the half losing valuable momentum. With a clear round he will give Rio Bravo something to think about. Of the remainder Big Pete qualified quite nicely recently and could be anything as could Fairdays Dixie who also makes his seasonal reappearance.
The penultimate heat is likely to have head bookmaker Charlie Finnegan scratching his head when pricing them up for opening show. The ultra-consistent Rhyds Premier won last time out whilst Valentine Camden and Ladyford Jim have both tasted victory in heats and finals in recent weeks at Racetime. Frisco Hold Up has been knocking on the door and although Waverly Jane acted up at the start on her debut she boasts strong form having won regularly across in Scotland in 2019.
A horse that might out-run its likely odds and could spring a surprise is Springhill Bilzer. Owned by the Galway family and trained by the late Jacky's son Garth this gelding impressed when last seen and should strip fitter for that experience.
The last heat is worth the admission fee alone where a solid case can be made for all 5 runners. Derrybeg is a renowned front runner and will try to make all. Monugs Boy could be considered an unlucky loser in the last meetings final and will be out to atone. Boomtown qualified impressively in 2:03 on the bridle and looked to be a top horse in the making. Charlie Pan is another newcomer to Racetime but has ran with great credit at York and Amman Valley for Welsh trainer Lee Morris.
Long overdue a visit to the winners enclosure is Michael Goggin's John Barley and he will never get a better opportunity than this to rectify matters having been dropped a grade in the handicap. Finbarr Brickley can make it a double for the West Cork raiders in the afternoons square trot with his Socrates Du Noyer. Likely to be partnered by son Ciaran, this striking chestnut has shown improvement with each run at the venue and with his arch nemesis Bocage De Fornet penalised yet another 10 yards in the handicap this could be the day that Socrates finally overhauls Bocage.
Terry Henderson's Evan Jive isn't out of the equation either with a clear round of trotting. Before the final a consolation pace will be staged for all non-placed horses on the day giving those who felt unlucky first time around another bite at the cherry. This will be kindly sponsored by leading bookmaker Charlie Finnegan.
A series of pony races will also be held in between races for budding reinsman under 14 years old and these are very popular amongst our young drivers of the future.
As always at Racetime Raceway ALL prizemoney is paid in cash on the day. Spectators are welcome but advised to strictly adhere to Covid-19 protocols. Post time 3:00 pm.
by Thomas Bennett, for Harnesslink