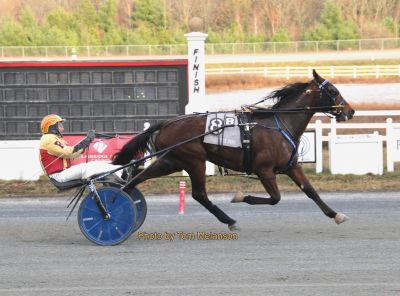 Plainville, MA — Eurobond took a while to grab the lead but when he did, it was for good and it paid off handsomely for his harness racing connections as he won the $25,000 Winners-Over trot at Plainridge Park on Monday afternoon (Nov. 23).
Eurobond (Bruce Ranger) chased Make It A Double (Matty Athearn) to the quarter in :27.3 before taking over the lead past that station and calling the shots from there. Eurobond trotted away, opening up a two length lead at the half and extending it to three by three-quarters in 1:24.3, with the rest of the field in two rows experiencing futile pursuit.
At the top of the stretch the leader had opened up by five but started to look vulnerable as Manny L (Shawn Gray) was flying late and making up considerable ground. But Eurobond found the wire first by 2-1/4 lengths in 1:55.4.
It was the fourth win of the year for Eurobond ($3.20) who has now earned $43,965 for owner Lindy Farms of Connecticut and Robert Rudolf. Domenico Cecere is the trainer.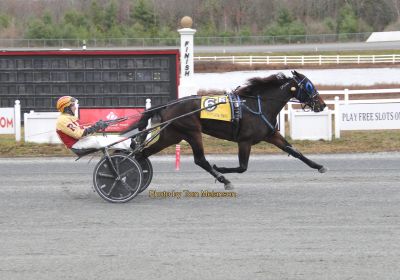 Cecere and Ranger also teamed up to win the $18,000 conditioned undercard trot with Sweet Shirley Mae ($2.10) who led with fractions of :28.3, :58.1 and 1:27.2 before turning for home, opening up six lengths and winning in 1:56.2. Sweet Shirley Mae is owned by Moni Market Breeders.
Ranger also won with Brookroadgeorge (1:58.3, $9.20) and Gracie Under Fire (1:59.2, $16.00) on Monday to claim a driving Grand Slam on the card.
Live racing will resume at Plainridge Park on Wednesday (Nov. 25) instead of Thursday (Nov. 26) due to the Thanksgiving holiday. And the final day of racing for the 2020 season will be held on Friday (Nov. 27). Post time for both days will be 1 p.m.
Friday will feature a $47,420 carry over and a $75,000 guaranteed pool in the Wicked Hi-5 wager in the sixth race. The pool is part of the United States Trotting Association's Strategic Wagering Program and as such, a free program page for the race will be available on the USTA's website (ustrotting.com) under the Handicapping tab on Wednesday afternoon (Nov. 25). The Wicked Hi-5 on Friday carries a mandatory payout so if there is no unique winning combination purchased, the track will pay out on the closest winning combination(s).
The $75,000 guaranteed pool on Friday is the largest ever offered in the 21-year history of Plainridge Park.
By Tim Bojarski, for the Standardbred Owners of Massachusetts