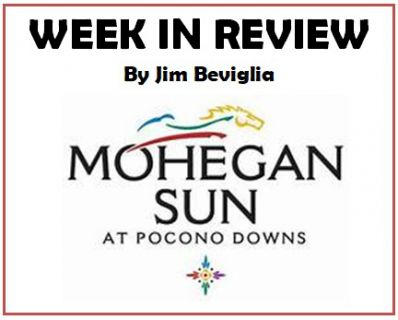 HARNESS RACING PACER OF THE WEEK: JUST N ACE
Despite winning his previous two races at Pocono, this five-year-old gelding was a 9-1 at the windows for Saturday afternoon's $25,000 to $30,000 claiming handicap pace. Perhaps it was because, for one, he was moving up in class from the $20,000 claimers. And there was also the fact that Just N Ace was switching barns after a claim.
Leaving from position #1 in a field of seven, Just N Ace didn't seem concerned at all about the lack of betting interest. Driver Larry Stalbaum sent him out to the front, rated him well, and let the gelding, now in the barn of trainer James Guagliardo, do the rest. Just N Ace easily dealt with a first-over challenge from Major Deception and rolled to his third consecutive win in 1:53:2 on a track listed in good condition.
Honorable Mention:
IYQ YQR (Anthony Napolitano, Marta Piotrow), who moved up in class on Saturday to win a $20,000 claimer in 1:52:1, giving him three victories in a row.
Dafinaty (Anthony Napolitano, Tom Wine II), who rolled to his second straight claiming win on Sunday, delivering in 1:54.
Talk Show Chica (Tom Jackson driver and trainer), a three-year-old filly who rolled to her second straight condition win on Sunday night, this time scoring in 1:53:2.
TROTTER OF THE WEEK: STOP RESISTIN
There are often concerns about a horse coming off a career-best mile, in that bettors worry that it won't be able to duplicate that performance. This four-year-old gelding trained by Steven Brabrook posted his career-best mile in a win in a claiming handicap trot on October 18 at Pocono in 1:54:3. On Sunday night, Stop Reistin faced the same $10,000 to $12,500 claiming handicap trotting group looking for two in a row.
Leaving from post position #6 in a field of eight as a 2-1 second choice, Stop Resistin sat back off the early pace as a speed duel between Meetmeinthemiddle and EV's Girl developed. Driver Marcus Miller chose a three-wide path on the back stretch for the gelding and he zipped past the leaders. From there, Stop Resistin was clear of the field and won his second straight, managing to reset his career mark in the process with a 1:53:2.
Honorable Mention
Crossfit (Tyler Buter, Susan Marshall), who captured his second straight claiming handicap trot on Tuesday and matched his career-best in the process with a 1:54:2.
Believer (Tom Jackson, Randy Taft), who followed up his maiden victory at Harrah's with a condition win at Pocono on Tuesday in a career-best 1:58:1.
Rich And Miserable (Tyler Buter, Todd Buter), who came up with a victory in Saturday afternoon's featured condition trot at Pocono for a $14,000 purse in 1:53, which was the fastest trotting time of the week at Pocono.
LONG SHOT OF THE WEEK: HATIKVAH
Coming from off the pace with driver Mattias Melander, this trotter rallied for a condition win on Saturday at Pocono at 17-1, paying off $37.60 on a $2 win ticket.
DRIVER OF THE WEEK: TYLER BUTER
Buter is closing out what might be his best ever season at Pocono pretty strong, as he churned out four wins on Saturday and then added multiple victories again on Sunday and Tuesday.
TRAINER OF THE WEEK: CLAY FAUROT JR.
Faurot did well by the veterans on Sunday night, picking up three training wins, all of which came with claiming pacers at least ten years old.
That will do it for this week, but we'll see you at the track. Feel free to e-mail me at [email protected].
by Jim Beviglia, for The Downs