After a difficult start to his harness racing career in the sulky, there was no holding back the emotions as Sean O'Sullivan brought up his maiden win as a driver at Geelong on Wednesday night.
The 19-year-old waved the whip in triumph as 11-year-old Realy Under Fire won the Devcon Properties Pace, and then wiped tears of joy from his face in the moments after the victory.
Some of the happiness was surely because the horse is family-owned and trained by his legendary father Jim, but also the fact that the result was such a long time coming.
O'Sullivan's career hit some hurdles early when stewards revoked his licence to drive in races following a tricky steer behind Majadore in October last year. The youngster went back to the trials to hone his craft, eventually returned to the races and has now broken through for his first winner at start 20.
"Coming home into the straight, I looked behind me and I noticed I was getting away from them a little bit. I was thinking that I might win this one," he said.
"Passing the line, I waved the whip and gave a big yell. After it I was very emotional. I couldn't believe that I'd won because I didn't think I'd get to that point. I thought it would take me a bit longer.
"Especially on the old horse, he's 11-years-old and done pretty good for us. And to win it for Dad was pretty special."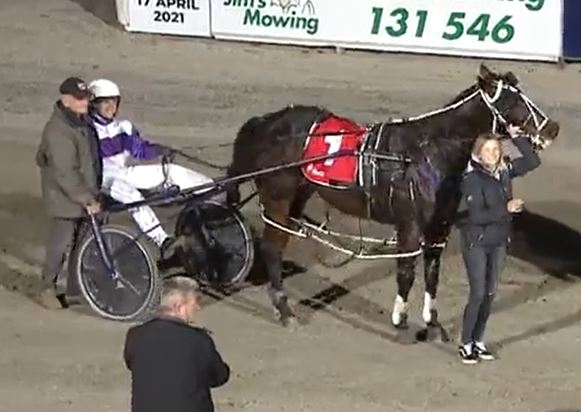 O'Sullivan admitted losing his licence at just his second drive was hard to take, but was pleased he'd been able to fight back and overcome adversity.
"It was a bit hard for me and I don't drive for many trainers at the races. I've driven for two, but I don't get put on as much as Ryan Sanderson or Jordan Leedham and all the male junior drivers," he said.
"I don't mind starting slow, but it's just a bit disappointing that had to happen."
Wednesday night went from good to great for the O'Sullivan family when Sean's sister Shannon drove Stephen Clarke-trained Monsieur Delacour to victory in the Winning Post Bar and Restaurant Pace.
Sean O'Sullivan currently mixes driving in races and helping out on the family property in Heathcote with calling trials at places like Bendigo and Maryborough, and even considers broadcasting a potential career at some stage down the track.
"Probably in the future I might focus on calling, but I think right now my main passion is just driving horses and obviously training them at home," he said.
"I've been in the game since I was born. I think the first thing I looked at was a horse."
By Tim O'Connor for HRV